Our clients
Young, Old, in the warm and in the cold, MWM is there to help you move forward and reach all your financial goals!

Here at Magis Wealth Management we focus on financial planning for families. Our clients have a wide range of income levels, but each one is serviced with the same amount of care and effort. Our core values consist of making sure each individual family is able to accomplish their financial goals and feel a sense of stability. Life is stressful as it is, so we take on the stress of a family trying to afford a child's college, saving for a new house, and being able to retire when you please.

Powered by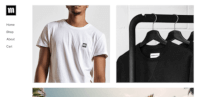 Create your own unique website with customizable templates.